here are the steps to installing DarkGDK:-
1. okay so first you need to have visual c++ express edition.
download this from -
http://www.microsoft.com/express/Downloads/#2010-Visual-CPP
click here to download it -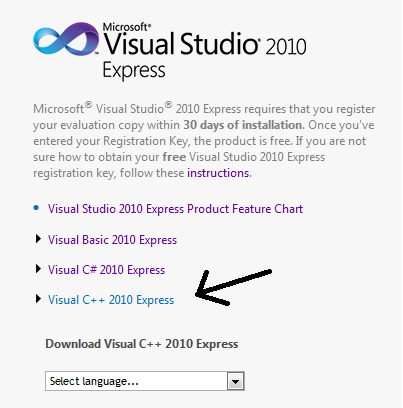 EDIT - doesn't work with 2010 edition, download 2008 edition here -
http://www.brothersoft.com/visual-c++-65282.html
2. once that's installed, down the august 2007 DirectX SDK from here -
http://www.thegamecreators.com/?m=view_product&id=2128&page=download
(it's number 2 in the links)
3. now run visual c++ once before installing DarkGDK
4. use the link above to install DarkGDK which is the final step.
post any questions you have here

-pqowieuryt101
Last edited by pqowieuryt101 on Sun Aug 29, 2010 2:43 pm; edited 1 time in total

not meaning to bust anybodys comfortable little bubble, but isnt darkgdk for msvc++ 2008 express edition only???
i may be wrong, if so, excuse this post
Kampai

hmm you may be right but I used the link on the game creators website and it took me to the 2010 edition download so I just presumed it was fine.
I'll give it a try and check back if it works. I've been really wanting to make the switch to 2010, but wasn't sure if DarkGDK would work with it. If I compile one of the wizards with the 2010 IDE, I'll post the proof.
Kampai

ok thanks

I'll probably install the 2010 edition if it does work

ok. so after many attempts. it wont compile. it throws lots of linker errors. partly due to the fact that you now have to specify "include" and "library" paths in the project configuration instead of it being readily available in the tools menu ( which is such a bust ). sorry, but i tried, honestly, i did

Kampai

yeh I remember having similar linker problems

guess I'll be sticking to 2008 then...
Thanks for trying it though

yea, tried 2010 and it does have problems with GDK templates, use 2008 instead




Posts

: 7


Join date

: 2010-08-28


Age

: 25


Location

: Lithuania / Vilnius



Similar topics
---
Permissions in this forum:
You
cannot
reply to topics in this forum